Music has always been at the heart of Christian worship. We are told that the disciples sang hymns (Mark 14.26), and by the 4th century music was well established during services. At St Nick's our worship on Sunday mornings is enhanced by choral and congregational music, and our hymnody is drawn from across the centuries.
The Organist is Ian Wells, who has had a long career in church music. He was Assistant Organist at Liverpool Cathedral from 1982-2007 and he is now an Honorary Deputy Organist there.
Our professional choir, the St Nicholas Singers, sings once a month at the Parish Eucharist and also at our monthly choral evening service (usually Choral Evensong). In addition, they are often asked to sing at weddings and many of our civic, business and military services. The St Nicholas Singers is a quintet of professional musicians formed in 1985 to provide occasional choral music at Liverpool Parish Church. Led by their Director, Stuart Keen, they have performed in many different contexts, including Radio Four's daily service and also BBC Songs of Praise.
When St Nicholas' Singers are not at the Parish Eucharist, music is provided by our congregational singers who sing the psalm, Mass settings, and a communion motet.
During the week we run a community choir jointly with the Liverpool BID Company and aimed primarily at the business community. This meets in Church on Wednesdays at 5.30pm and new members are always welcome.
A number of other choirs and orchestras rehearse and perform at the Parish Church. St Nick's has been the base for The Oriel Singers since their formation in 1977. The Liverpool Renaissance Singers also meet weekly to rehearse.
Since 2018 we have been the home of the main orchestras for the charity Early Music as Education which trains young people from diverse backgrounds in the performance of baroque music. Throughout the year they perform a number of concerts both in St Nick's and across the country, as well as an annual residence in a European City.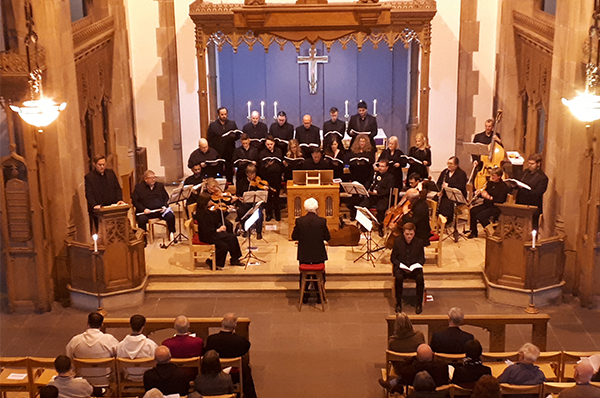 Throughout the year we host a number of other concerts and performances. We have had a long-standing relationship with the Liverpool Bach Collective who have performed Bach's St John Passion or St Matthew Passion during Lent for some years, as well as cantatas at other times of year.
Music at St Nick's is usually accompanied on our 1952 Rushworth & Dreaper organ (the organ specification is here). We are most fortunate to be the home of a 9' Bösendorfer 'Imperial' Concert Grand Piano, and also regularly use our Bechstein Grand Piano.
More details about when the bells will be ringing this week can be found on the website of the Liverpool Parish Church Society of Change Ringers www.pierheadbells.org.uk
Bells have hung in the church tower since at least the year 1636. Four bells were bought in that year and were re-cast in 1724 when two more were added. These were damaged when the Tower collapsed in 1810.
These six bells were then recast and six more were added and installed in the new tower. They were rung for the first time on 4th June 1814. The tower escaped serious damage when the church was destroyed in December 1940 and the bells were removed for safety thereafter. The present ring of twelve was cast by John Taylor & Sons, Loughborough, and was installed in a new frame in the bell chamber prior to the opening of the new church in October 1952. A thirteenth bell was added in 2008.
The bells range in size from the Treble (diameter 27", weight 307 kg) to the Tenor (diameter 60.5", weight 2128 kg). Further details of the individual bells can be found here.