The organ was built (1952) by Rushworth & Dreaper Ltd. (Liverpool) and is dedicated to the memory of Charles W. Bridson, organist at the Parish Church between 1902-1949.
The organ is situated in the West End of the church accommodated in three separate chambers provided by the architect E.C.Butler, LRIBA (Messrs. W.A.Forsyth & Partners, London) who designed the casework. The Great is in two sections on either side of the Oriel Window, the Swell and Choir being placed behind the Grille in the North Aisle. The Console is placed on an elevated platform adjacent to the Choir Stalls.
The organ was restored in 1983 and again in 2005 at which time all electrical wiring was replaced and a new solid state capture system added.
Compass of Manuals – CC to C 61 notes
Compass of Pedal – CCC to F 30 notes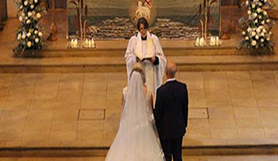 Pedal Organ
1.
Sub Bass
32 ft
Acoustic
2.
Open Diapason
16 ft
3.
Violone
16 ft
From Great no.23
4.
Bourdon
16 ft
5.
Salicional
16 ft
From Choir no.13
6.
Principal
8 ft
Extension from no.2
7.
Bass Flute
8 ft
Extension from no.4
8.
Octave Flute
4 ft
Extension from no.4
9.
Trombone
16 ft
Extension from no.30
10.
Trumpet
16 ft
From Swell no.40
11.
Bassoon
16 ft
From Swell no.38
12.
Tromba
8 ft
From Great no.30
I Choir to Pedal
II Great to Pedal
III Swell to Pedal
Choir Organ
13.
Contra Salicional
16 ft
14.
Lieblich Gedeckt
8 ft
15.
Salicional
8 ft
Extension of no.13
16.
Vox Angelica
8 ft
17.
Salicet
4 ft
Extension of no.13
18.
Lieblich Flute
4 ft
Extension of no.14
19.
Nazard
2 2/3 ft
Extension of no.14
20.
Lieblich Piccolo
2 ft
Extension of no.14
21.
Clarinet
8 ft
IV Tremulant
V Swell Sub to Choir
VI Swell to Choir
VII Swell Octave to Choir
22.
Tromba
8 ft
From Great no.30
VIII Tromba Sub Octave
IX Tromba Octave
Great Organ
23.
Contra Geigen
16 ft
24.
Open Diapason I
8 ft
25.
Open Diapason II
8 ft
26.
Hohl Flute
8 ft
27.
Octave
4 ft
28.
Twelfth
2 2/3 ft
29.
Fifteenth
2 ft
30.
Tromba
8 ft
X Swell Sub Octave to Great
XI Swell to Great
XII Swell Octave to Great
XIII Choir to Great
Swell Organ
31.
Geigen Diapason
8 ft
32.
Cor de Nuit
8 ft
33.
Viole
8 ft
34.
Voix Celeste
8 ft
35.
Geigen Principal
4 ft
36.
Fifteenth
2 ft
37.
Mixture
III ranks
38.
Contra Oboe
16 ft
Extension of no.39
39.
Oboe
8 ft
XIV Tremulant
XV Sub Octave
XVI Octave
40.
Double Trumpet
16 ft
41.
Trumpet
8 ft
42.
Clarion
4 ft