The Parish Church has two meeting rooms in the interconnecting Parish Centre (as well as the Church itself) which can be booked by outside organisations. We have a long history of providing affordable meeting space for charities and groups supporting areas of particular social need. All rooms are disabled-accessible.
The Refectory
This is the largest of our rooms in the Centre. It is located at first floor level, accessible via the lift, immediately above the entrance hall to the church. A large kitchen is immediately adjacent which can be used if catering is required. The Refectory is equipped with tables and meeting chairs.
The kitchen has access via the Refectory but also separate access avoiding the Refectory. There is a large dual-fuel cooker (gas hob with electric oven), microwave oven, fridge and freezer facilities and an industrial dishwasher. Crockery and cutlery is available on request.
Depending on layout, the Refectory can seat up to approximately 50-60 people for meetings and presentations in theatre layout, and up to a maximum of 100 standing.
A portable AV system (55" screen) is available.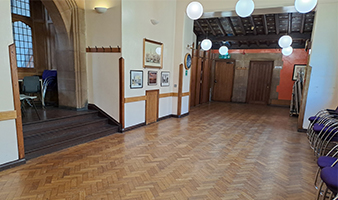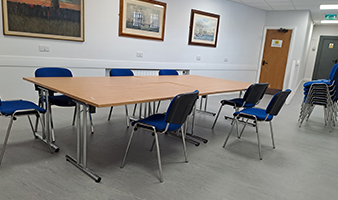 The Alexandra Room
Refurbished in 2017, this room is a smaller meeting room which is located in the basement section of the Church Centre and is named after HRH Princess Alexandra who formally re-opened the Parish Centre after its renovation in 1993.
The room is equipped with 4 conference tables and 20 chairs. There is a small kitchen adjacent which could be used for making tea/coffee, light refreshments etc.
A portable AV system (55" screen) is available.
Prices and Booking
Our rates vary depending on the length of your booking and the nature of your organization. We offer favourable rates to charities. The Rector and Churchwardens reserve the right not to accept all booking requests.
For further information, to view the facilities, or to make a booking, please contact the Parish Office by telephone or using the Contact Form.